凌叔華
Ancient Melodies
by Su Hua, lONDON: Hogarth Press 1953
Ancient melodies

/​ by Su Hua; with an introduction by V. Sackville-West.
Author
Published
London, : Hogarth P., 1969.
Physical Description
Notes
Language
ISBN
Dewey Number
LC Call Number
Libraries Australia ID
Record ID
Contributed by
From Publishers Weekly
The author of these charming reminiscences, one of the many daughters of an ex-mayor of Peking, was encouraged as a writer and painter by Virginia Woolf with whom she began a correspondence in the 1930s. The two never met: Woolf had died by the time Su Hua moved to London in 1947. With delicate verbal strokes, the author paints the canvas of her comfortable childhood as the daughter of her father's fourth concubine in a household of courtyards that encompassed six mothers and their children, as well as servants who tended the complicated daily routines of life for the privileged in China just prior to the Boxer rebellion. These gently traced stories of a lost world hint at the imminent social changes. Published in England in the '50s and only now appearing in the United States, this memoir recreates for a new audience a book Vita Sackville-West praised for its "delightful sketches of a vanished way of life on the other side of the world."
Copyright 1988 Reed Business Information, Inc.
---
Product Details
Hardcover: 255 pages
Publisher: Universe Pub; First Edition. 1 in number line edition (October 1988)
Language: English
"古韵"悠然 真情生魅

不知何故,凌叔华思量已久的翻译计划一直未能实现,不过她与英文的渊源换了另一种方式呈现——她的英文自传体小说《Ancient Melodies》于1953年出版。该书由英国著名女作家弗吉尼亚·伍尔芙和她丈夫创办的霍加斯书屋出版,一经出版,很快即引起英国评论界的重视,成为畅销书。当时的《泰晤士报文学副刊》评论说:"叔华平静、轻松地将我们带进那座隐蔽着古文明的院落。现在这种文明已被扫得荡然无存,但那些真正热爱过它的人不会感到快慰。她向英国读者展示了一个中国人情感的新鲜世界。高昂的调子消失以后,古韵犹存,不绝于耳。"不过这本书被译为中文并在中国大陆出版,则是相距原版首次印行的40年之后,即1994年傅光明先生翻译并由中国华侨出版社出版,书名译作《古韵》。全书从写作到英文出版,前后经历了十数年,其中关系着一段偶然而特殊的因缘。

凌叔华南下武汉期间,一位来自异域的年轻人于她的视野中出现,他叫朱利安·贝尔,是位有才华又有激情的青年诗人,1935年应邀来武汉大学任教,时年27岁,他是英国著名女作家弗吉尼亚·伍尔芙的外甥,他的母亲凡尼莎·贝尔也是一位知名画家。他们在珞珈山相识,彼此都钟情并擅长文学、绘画等艺术,有共同的志趣,自然而然便多有往来。1937年,朱利安·贝尔回到英国之后,特别当面向姨母推荐凌叔华,并建议她们相互通信联系。于是,中国的才女作家凌叔华与一位天才作家得以越境神交,堪称一大良缘。

凌叔华回忆说:"我接受她的建议,开始用英文写自己的生平,写好一篇就寄一篇给她……"伍尔芙的鼓励,她记忆犹新:"继续写下去,自由地写,不要顾忌英文里的中国味儿。事实上,我建议你在形式和意蕴上写得贴近中国。生活、房子、家具,凡你喜欢的,写得愈细愈好,只当是写给中国读者的。然后,再就英文文法稍加润色,我想一定可以既保持中国味道,又能使英国人觉得新奇、好懂。"这些文稿传递穿过战火、跨越重洋,持续三年多,直到1941年伍尔芙不幸去世而止。后来结集出版的《古韵》中的作品,正是远隔千山万水、彼此从未相见的两位不同肤色、不同文化背景中的女性,在这段文心互通中的结果。

在伍尔芙离世6年后的1947年,凌叔华踏上了那个英伦岛国,来到了她心仪已久的大作家伍尔芙的家乡。(1944年陈西滢赴英主持中英文协工作,凌叔华随之而来。)而这部书之后在英国的出版,也是伍尔芙的夙愿。

《古韵》确实是本别致的书,让人觉得读时平静,而读罢之后则感到意味渐浓。诗人维特·萨克维尔·韦斯特在该书的英文版序言中说:"她(凌叔华)成功了。她以艺术家的灵魂和诗人的敏感呈现出一个被人遗忘的世界,在这个世界,对美好生活的冥思细想是不言自明的。她的每封信都能反映出她对于美的渴望。她的文笔自然天成,毫无矫饰,却有一点惆怅。因为她毕竟生活在流亡之中,而且那个古老文明的广袤荒凉之地似乎非常遥远。"
[2003-10-06] 才女凌叔華
2003年10月6日
...
凌叔華
一九零零年出生北京一個仕宦與書畫世家,父親為清末翰林,精於詩詞,家
...
魯迅曾為她寫下評語:「
凌叔華
的小說,卻發祥於這一種期刊《現代
..

放大圖片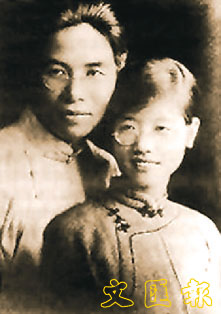 凌叔華與丈夫陳西瀅
 凌叔華一九零零年出生北京一個仕宦與書畫世家,父親為清末翰林,精於詩詞,家中文人騷客來來往往。凌叔華受到良好教育,英文師從能把《失樂園》一字不差背誦的辜鴻銘。繪畫拜女畫家繆素荺。
 凌叔華二十二歲考入燕京大學外語系,畢業後與陳西瀅(陳源)結婚。當時陳(曾與徐志摩和胡適創辦《現代評論》周刊)任北大英文系系主任,他們通過泰戈爾訪華而相識。
 一九二七年凌叔華夫妻執教武漢大學,凌因她的小說要翻譯成英文,結識了英國著名女作家弗吉利亞.吳爾芙(即虹影作品《K》內男主角貝爾的親阿姨)。
 據記錄,吳爾芙曾鼓動她寫作,「自由地寫,不要在意多麼直接地由中文翻譯成英文。事實上,我寧願你盡量接近中文的語言風格和意義。」
 中西兩位女作家交往了三年(一九三八—一九四一),直到凌叔華的《古歌集》在英國出版,成為當時的暢銷書。該書隨後還被翻譯成多種文字。
 凌叔華的《酒後》,是她第一篇具有影響力的小說,其他如:《花之寺》、《女人》、《小哥兒倆》及散文集《愛山廬夢影》外,還有短篇小說自選集《凌叔華選集》等。
 魯迅曾為她寫下評語:「凌叔華的小說,卻發祥於這一種期刊《現代評論》的,她恰和馮沅君的大膽,敢言不同,大抵很謹慎的,適可而止的描寫了舊家庭中的婉順的女性。即使間有出軌之作,那是為了偶受著文酒之風的吹拂,終於也回復了她的故道了。這是好的,——使我們看見和馮沅君、黎錦明、川島、汪靜之所描寫的絕不相同的人物,也就是世態的一角,高門巨族的精魂。」(魯迅《(中國新文學大系)小說二集序》)
 凌叔華的繪畫,在國內外有著很高聲譽。她既善工筆,又善寫意,墨跡淡遠,秀韻入骨,曾被國內外的名家所稱道。一九六二年凌叔華在巴黎舉辦畫展。四年後,英國大英藝術協會曾借出她在法國展出的文人畫在倫敦展出。
 一九九零年五月,九十高齡的凌叔華病逝北京,骨灰安放在無錫惠山腳下,與陳西瀅合葬。