東方白的文學回憶錄【真與美】末卷,有專文介紹他與夫人訪此莊園的感動........
War and peaceful gardens: in the land of Tolstoy
A visit to Tolstoy's country estate gives writer and gardener Charlotte Mendelson an insight into the relationship between nature and creativity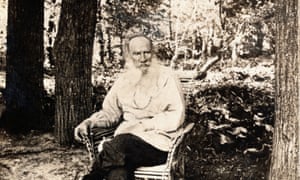 Country life … Tolstoy in the grounds of his estate, Yasnaya Polyana. Photograph: George Rinhart/Corbis/Getty
Charlotte Mendelson
Saturday 15 October 2016 11.00 BST
Springtime can kill you, but autumn is worse. If one's soul responds to nature – and, as Louis Armstrong said of jazz, if you have to ask what that means, you'll never know – then its beauty is painful. Whatever TS Eliot thought (the poor man was wrong about so much), autumn is the most painful time of all. Walking in the grounds of Tolstoy's country estate at
Yasnaya Polyana
, yellow birch leaves turning gently as they fall, is almost too much, particularly for an oversensitive novelist. Five of us are here, imported by the British Council to broaden Russian conceptions of British literature. We have worked – by God we have worked – but, this morning, among the wooded paths and ripe, rich leaf mould, nothing else seems to matter, not even fiction.
For cramped city-dwellers, the incomprehensible excess of space is dazzling: the "cascade of three ponds", each more invitingly cool and swimmable than the last; the fir woods thick with fungal life; the juicy grass. Even the ponies have had a surfeit. There is so much silken birch bark, pinkly tender beneath its epidermis; so many fallen, unregarded apples and ancient, lichen-spattered branches: mustard, pigeon, rose. One wants to sniff and wallow; at least, I do. Surely this is normal? A reasonable response to being knee-deep in the dew and bracken: surrendering to the space, the wildness?
Of course not. My fellow writers return home with translators' business cards and ecclesiastical souvenirs. My case is full of Japanese quinces, oak leaves, almond shells, calendula seeds and, most worrying of all, a knobbly fir branch, as long as my arm, stolen from the forest floor and slipped past the cold-eyed, epauletted customs boys at Domodedovo airport. Did the other novelists find themselves embarrassingly weeping at the perfect transparency of a plantation of firs, bare-trunked and widely spaced to allow, as Sofia and
Leo Tolstoy
had intended, the pale September sunlight to pour in? They did not.
***
***Count Tolstoy would probably not have recognised my tiny outdoor space as a garden. Largely paved, entirely overlooked, without bluebells or coppicing or even a simple wildflower meadow, my six square metres of polluted soil he would consider to be unworthy of the most pitiful peasant schoolteacher: where is the pig? The walnut tree? Oh Leo, I know; I'm disappointed too.
At the other end of the gamut of garden writing lies seed catalogues: during times of stress or in deepest midwinter, they are perfect for reading in the bath. At least, they should be. But, for the novelist-gardener, trauma lies ahead. I hope I am not alone in finding certain words and phrases unbearable: "veggies", "a bake", "eat happy", "hue". Unfortunately, seed catalogues are worse, full of showy choice fluoroselect picotee bicoloured collarette pastel novelties. Perfectly ordinary varieties of flowers, fruit and vegetables bear names for which there is no excuse: Naughty Marietta, Slap 'n' Tickle, Tendersnax, Bright Bikini, Nonstop® Rose Petticoat. They make me want to die.
And now, after a decade of increasingly demented growing, I have at last found my gardening sibling: Leo Tolstoy. At Yasnaya Polyana, inspecting the fat yellow squashes growing on the compost heap, sensing the curvature of the earth as we reached the bare brim of a wooded hill, I suddenly understood that in one respect, if, irritatingly, none other, I and the great beardy genius are alike. We are enthusiasts. Fine, so my garden isn't an arrangement of colours and textures to please an artist's, or even a normal gardener's, eye. Who cares if it's not reflected in any book I've read, or if few others garden purely for taste, smell, sensual pleasure: the warm pepper of tomato leaves, curling courgette tendrils, the corduroy ridges on a coriander seed. My tiny green and fragrant world would definitely not have been admired by Tolstoy's guests from the drawing-room windows, but I think the man himself would have understood the passion behind it. Please ignore the broom handles and recycled windows; I'm sorry that there is nowhere to sit. But just taste this Crimean tomato, this purple bean, this golden raspberry. Look into the translucent depths of this whitecurrant. Pay attention. It brings such peace.
•
Rhapsody in Green
is published by
Kyle Books
. To order a copy for £12.99 (RRP £16.99) go to
bookshop.theguardian.com
or call 0330 333 6846. Free UK p&p over £10, online orders only. Phone orders min p&p of £1.99.