"The road was frozen. The village lay quiet under the cold sky. Komako hitched up the skirt of her kimono and tucked it into her obi. The moon shone like a blade frozen in blue ice."
―from "Snow Country" by
Yasunari Kawabata
雪国(1935年1月-1937年5月。1940年12月-1947年10月)
"The stars, almost too many of them to be true, came forward so brightly that it was as if they were falling with the swiftness of the void."
―from SNOW COUNTRY
Nobel Prize winner Yasunari Kawabata's Snow Country is widely considered to be the writer's masterpiece: a powerful tale of wasted love set amid the desolate beauty of western Japan. At an isolated mountain hot spring, with snow blanketing every surface, Shimamura, a wealthy dilettante meets Komako, a lowly geisha. She gives herself to him fully and without remorse, despite knowing that their passion cannot last and that the affair can have only one outcome. In chronicling the course of this doomed romance, Kawabata has created a story for the ages — a stunning novel dense in implication and exalting in its sadness. READ an excerpt here:
http://www.penguinrandomhouse.com/…/snow-country-by-yasuna…/
《
美的交響世界:川端康成與東山魁夷
》2006
川端康成と東山魁夷―響きあう美の世界
単行本
– 2006/9
文豪と画家、知られざる魂の邂逅。日本の美を追求した芸術家同士の素顔がのぞく往復書簡、発見される。直筆書簡、東山魁夷作品、国宝級の川端康成コレクション、一挙公開。
著者略歴 (「BOOK著者紹介情報」より)
川端/香男里
財団法人川端康成記念会理事長(本データはこの書籍が刊行された当時に掲載されていたものです)
我是讀了川端康成的「末期の眼」之譯文 文中提到 古賀春江
去找一下
古賀 春江
(こが はるえ、
1895年
6月18日
-
1933年
9月10日
)は大正期に活躍した日本の初期の
シュルレアリスム
の代表的な
洋画家
(男性)である。本名は
亀雄
(よしお)。後に僧籍に入り「古賀良昌(りょうしょう)」と改名する。「春江」はあくまでも通称である。
他的生平有簡單的英文介紹
Harue Koga
(古賀 春江 Koga Harue, June 18, 1895 - September 10, 1933)
was a
Japanese
surrealist
/
avant-garde
[1]
painter
active in the
Taishō period
.
His life
His real name is Yoshio. He entered the priesthood and was renamed "Ryosho Koga"; "Harue" is an alias. He was born as the eldest son of the priest of a buddhist temple, Zenfukuji. He belonged to the Pacific Ocean Painting Association Laboratory and the Japanese Watercolor Painting Laboratory after he had gone to Tokyo. He won Nika Prize for "Burial" in 1922. He established an art group "Action" in the same year. He devoted himself to
Paul Klee
between 1926 and 1927, and became good friends with
Yasunari Kawabata
.
[1]
A lot of his art works were influenced by the movements and painters in the West such as
cubism
(
Fernand Léger
), surrealism, Klee, etc., and his style changed one after another in a short term. In general, his work of several years following "Sea" is considered as the beginning of the surrealism painting in Japan, and had a big influence on the following Japanese arts.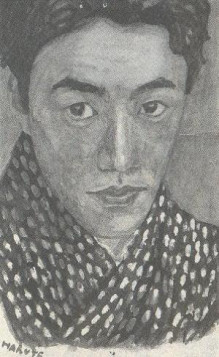 九 抒情詩圏の画家――古賀春江
「絵はがき(自画像)」1916年
https://ja.wikipedia.org/wiki/山の音

山の音』(やまのおと)は、川端康成の長編小説。戦後日本文学の最高峰と評され、第7回(1954年度)野間文芸賞を受賞。川端の作家的評価を決定づけた作品として ...
川端康成,譯者:葉渭渠
'The Sound of the Mountain': Yasunari Kawabata's slow-burning meditation on getting older
BY
LOUISE GEORGE KITTAKA
SPECIAL TO THE JAPAN TIMES
MAR 25, 2017
The first Japanese winner of the Nobel Prize in literature in 1968, Yasunari Kawabata, deals with the gradual decline that comes with aging in "The Sound of the Mountain."
The Sound of the Mountain, by Yasunari Kawabata, Translated by Edward G. Seidensticker.
276 pages
TUTTLE, Fiction.
Family patriarch Shingo Ogata, a businessman nearing retirement, lives with his wife, son and daughter-in-law in Kamakura. Shingo has an affinity for the natural world, which serves as a metaphor for his feelings and reactions to events around him.
He is forced to ponder his own past performance as husband and father when both the marriages of his adult children run into trouble: Daughter Fusako leaves her husband, arriving home with her two small daughters, while her brother, Shuichi, neglects his own wife, Kikuyo, and brazenly carries on an affair. Shingo sees something of a kindred spirit in the devoted and gentle Kikuyo, and his affections for his daughter-in-law are a tad more than fatherly. At the same time, he feels guilt over a long-held infatuation for his late sister-in-law.
Despite his self-perceived shortcomings, Shingo is a sympathetic protagonist, and as he takes action to end his son's affair and bring him back into the family fold, the book closes with a tentative sense of hope for a happier future for the Ogatas.
Kawabata delivers his characters and their dialogue in sensitively written prose that moves at a leisurely pace, and this domestic drama of is best enjoyed in the same manner.
First English-language edition
Author
Yasunari Kawabata
Original title 山の音
Yama no Oto
Translator
Edward Seidensticker
Country Japan
Language
Japanese
Publication date 1949–1954
Published in English 1970 (
Knopf
)
Media type Print (
paperback
)